Custom Fields
Every website is set up differently in a number of aspects; depending on the way your site has been set up, you may need to edit some items on your site using Custom Fields.   This is more common if you have one of our bespoke websites.   There is however one element in this area which all sites will be able to update:


Friendly URLs
Custom Fields drop-down will contain an editable text field titled Friendly URL.  Friendly URLs enable you to create a human-friendly address for a specific page.  By creating a friendly URL you can shorten the address and make it more memorable.
Navigate to the page where you would like to create a Friendly URL.


Select

 

Custom Fields

 

from the

 

Edit

 

tab.  You will be presented with all Custom Fields available on your website, locate the text field titled

 

Friendly URL.


Type a single word to identify your page i.e for an About Us page you could type the word about.  Using this example, the URL to access the About Us page will be

 

www.yourschooldomain.co.uk/about 
---
Certain words cannot be used as a friendly URL
| | | | | | |
| --- | --- | --- | --- | --- | --- |
| admin | comments | eshop | news | reminders | survey |
| attachments | course | feeds | page | resources | tags |
| blog | course-booking | form | parentportal | routes | test-suite |
| calendar | custom | forum | podcast | search | tools |
| category | e4ecookies | gallery | poll | sitemap | twitter |
| club | email | microsites | privacy-cookies | ssosp | users |
Saving
Once you have entered your friendly URL you will need to save the page
Click the save button on the Edit Tab and choose the desired save option.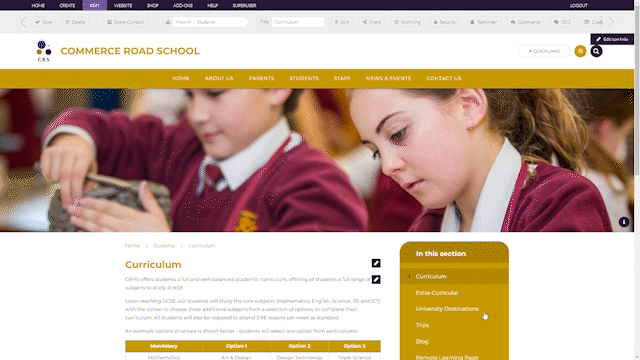 Save Now

If you see this option, you are able to save and publish your item immediately to make it live on the website.
If you have purchased our School News Mobile App, Administrators or Publishers will also be able to tick the option to send a notification to subscribed app users.  
 

Save Draft

This will allow you to save your item without publishing it, and return to continue editing via the Drafts button on the Home Tab
 

Send for Approval

This option enables you to send an item to be reviewed and approved by either an Administrator or Publisher.  Once approved this item will be made live on the site.