You can either upload videos directly to your Video Manager or embed them from other online sources like Youtube or Vimeo.  We recommend using a dedicated video hosting service, which will usually allow unlimited video storage, and will often allow you to edit your videos too.  
Click into the content area, where you would like to embed the video.


Select the Edit tab and click the video icon

The Embed Video window will appear.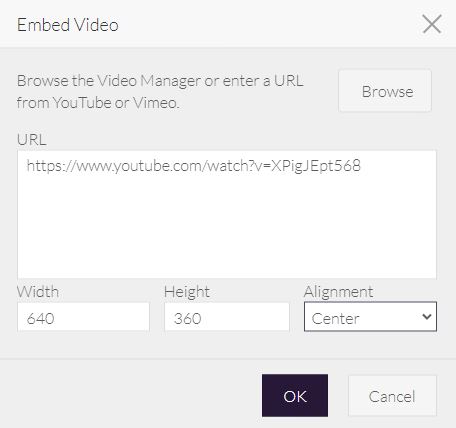 Embedding with YouTube or Vimeo
To embed a video from YouTube or Vimeo, copy the video URL and paste it into the URL field. 

 TIP:  YouTube will allow you to upload a video as unlisted.  Setting your video to unlisted will mean that it cannot be searched for but can still be embedded on your school's website.  For more information, take a look at YouTube's tutorial - https://support.google.com/youtube/answer/157177?hl=en-GB

Uploading to the Video Manager
To upload a video to your website's video storage, and embed it into a page, click the browse button.  This will open the Video Manager.





Select or add a folder to place your video into, and click Upload from the top of the window.
From the Upload a Video window, click select video and browse to the video file you would like to upload from your computer, click on the file and press Open.
You will be taken back to the Upload a Video window, which will now display the name of your video.  Press Start Upload to continue.
When the video has been uploaded, the encoding process will start to ensure it will play on different devices.  This process will also reduce the file size as much as possible to help with load time.  Whilst encoding, the Video Manager will display the file with the message: This video is currently being encoded to enable it to be displayed on this site.
Hover over the video thumbnail and click Insert.

 TIP:  The Video Manager will show the total space you have and how much space has been used for all uploaded videos.  There isn't a maximum file size per video file, however, all videos stored cannot exceed the overall storage limits.  If you would like to enquire about increasing your video storage, contact our

 

Support Team

 

to find out more.



In the Embed Video window, set the Video Properties:

Width - Reduce or increase the video containers width on a page in pixels.
Height - Reduce or increase the video containers height on a page in pixels.
Align - Position the video container left, right or centre.
Once the relevant changes have been made, press OK to close the Embed Video window and place the YouTube video on your page.
Click the save button on the Edit Tab and choose the desired save option.  
Save Now

If you see this option, you are able to save and publish your item immediately to make it live on the website.
If you have purchased our School News Mobile App, Administrators or Publishers will also be able to tick the option to send a notification to subscribed app users.  
 

Save Draft

This will allow you to save your item without publishing it, and return to continue editing via the Drafts button on the Home Tab
 

Send for Approval

This option enables you to send an item to be reviewed and approved by either an Administrator or Publisher.  Once approved this item will be made live on the site.