Templates can quickly format your page to use a specific layout and style at the click of a button.  Our Content Management System (CMS) comes with several generic templates to allow you to add items such as Columns and Accordions to your content.  If you would like additional templates, for example, Buttons, Quotes or Announcement blocks, which are not already available; please contact our
 

us for more information.
Navigate to the area of the website where you would like to use a page template.


Click within the content where you would like to add the template and click the template icon 

 

The

 

Content Templates

 

window will appear.  Select the required template to add it to your page. 
If you would like the template to replace content already on your page, tick the

 

Replace actual contents

 

checkbox.
TIPS
If there isn't a space after your template, you can add a paragraph space, to allow you to add further content.  Click into the content area, and hover your mouse toward the bottom of the template.  A red box with an arrow will appear.  Click the arrow to create space.


Templates can be deleted by selecting the item using your cursor, an simply clicking delete or backspace on the keyboard, as with any other content on the page.  
Click the save button on the Edit Tab and choose the desired save option.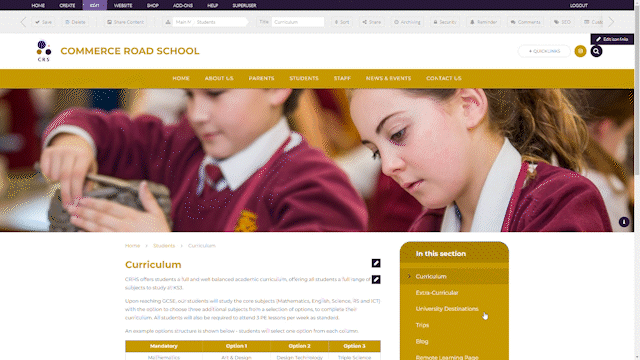 Save Now

If you see this option, you are able to save and publish your item immediately to make it live on the website.
If you have purchased our School News Mobile App, Administrators or Publishers will also be able to tick the option to send a notification to subscribed app users.  
 

Save Draft

This will allow you to save your item without publishing it, and return to continue editing via the Drafts button on the Home Tab
 

Send for Approval

This option enables you to send an item to be reviewed and approved by either an Administrator or Publisher.  Once approved this item will be made live on the site.