We understand the importance of tracking data to monitor content performance across your school's website, ensuring that information is effective and being received by stakeholders. So, we have integrated the Matomo Analytics Platform into our Content Management System. Matomo is a powerful analytics solution used by individuals and large corporations.
Accessing Website Statistics (Web stats)
To access your school's website statistics:
Log in to your school's website with an Administrator account.


Select Webstats from the Website tab - The Matomo Dashboard will open in a new tab.
Some of the top things you might like to report on are:

Visitors
It's important to know the number of people you are reaching out to and if they are unique visitors or returning in a specific time frame. If offline marketing is conducted which references a page on your school website, it can be a good way to track the success of the campaign or event promotion.


Referrals
Having an understanding of where your traffic is coming from is essential to understanding how well your promotional efforts are working.


Bounce Rate
A Bounce is when someone visits your site and immediately clicks the back button or closes the browser. Typically this means that a user did not find what they were looking for on your website and decided to leave. It could also mean that a user landed on your website by mistake.


Exit Pages


Bounce and Exit are often confused.
An Exit happens when a user visits multiple pages and then leaves your website. However, a Bounce is when a visitor leaves straight away.
Top 10 Pages
By being aware of the top pages on your school's website, you know which pages will have the biggest impact if you make a change.
Matomo Dashboard
By default your dashboard has a Visits over Time graph, Visits by Server Time graph, Pages information, Length of Visits cloud, Device type chart, Visitor Map and Referrer Websites table.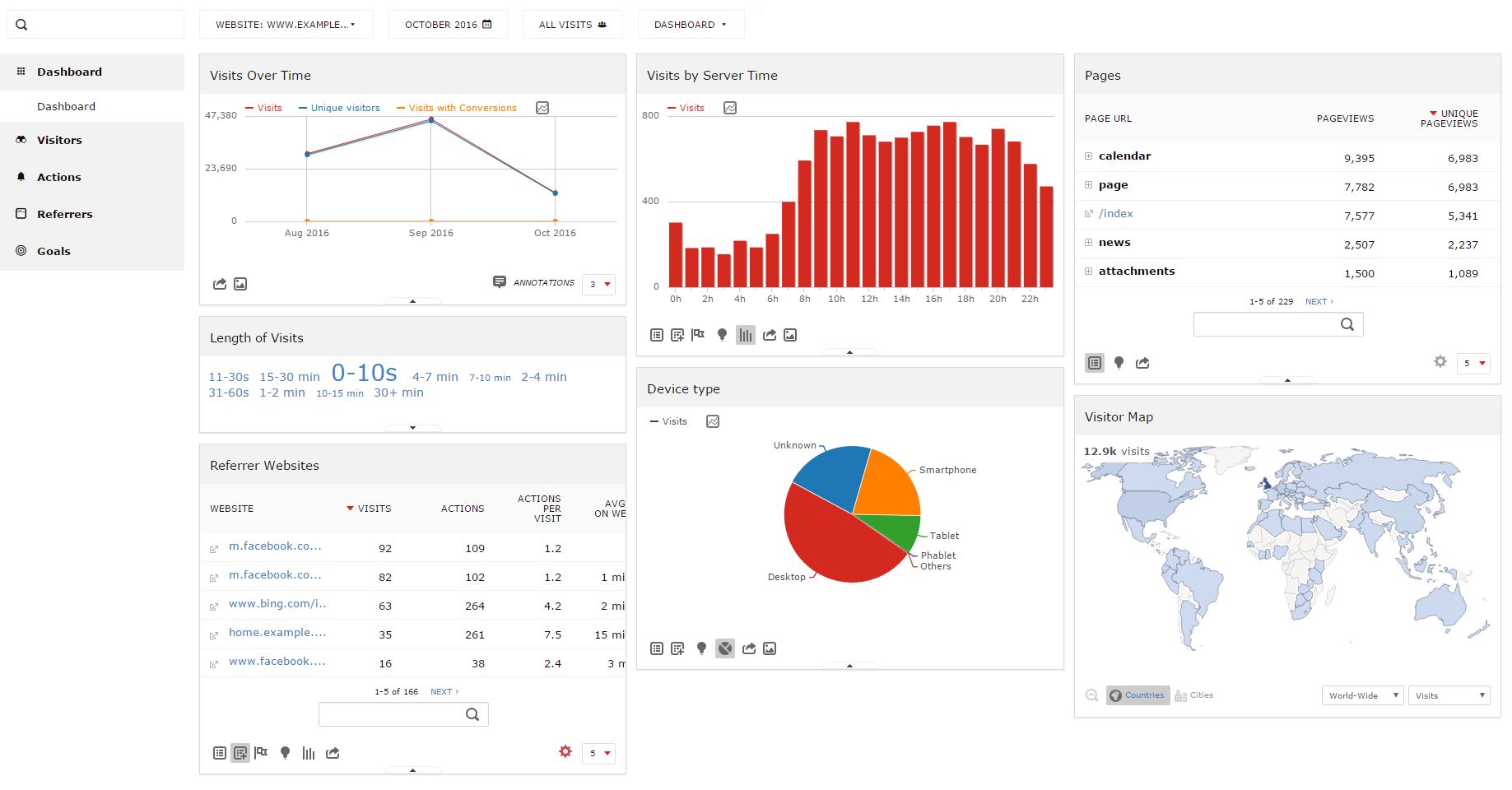 Select a Date Range
By default, the date range will be set for "yesterday". To change the date range,
Select the calendar icon from the top menu bar.


On the calendar drop-down, select either day, week, month, year or a specific date range.


Clicking on the date range will display an additional calendar. The first calendar allows you to set the start date and the second calendar allows you to set the end date.


When you are happy with your date range, press Apply.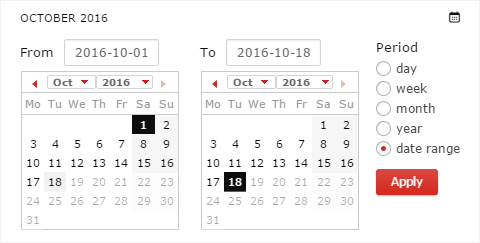 Segmentation
Next to the calendar icon, you have the ability to switch between All Visits and Normal Visits. By default, All Visits will be selected.
Normal Visits - Filters data where the content requested was successfully returned.


All Visits - Displays figures for all content regardless of whether the item returns successfully or not.
To obtain a better understanding of your genuine traffic, we recommend setting this option to Normal Visits.
Export Data
You can export data in formats such as CSV, TSV (Excel), XML, Json and PHP.
If you would like to save a graph or chart, select the image icon at the bottom of the widget. Selecting the image icon opens a separate box prompting you to right-click and select "Save Image As".
Every report table has options and functionality which is useful to that data type. Feel free to play around with the widget options until you feel comfortable.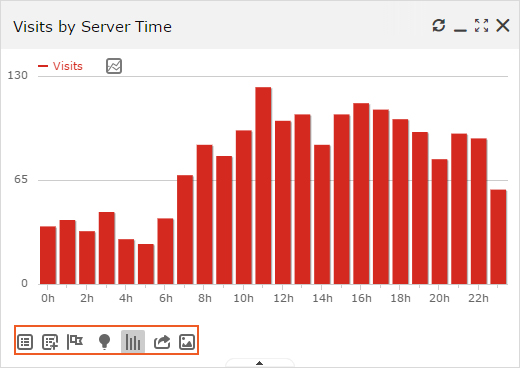 Schedule a Report
​Open Webstats and click on the Personal Settings icon in the top right corner.


On the left menu, click Email Reports.


Click Create and Schedule a report.


Complete the following fields:

Description - Type a brief description summarising your report.
Chose a segment - We recommend selecting Normal Visits, as this will display data for genuine traffic, excluding potential bot visits.
Email Schedule - Specify if the report should be sent daily, weekly or monthly.
Report Format - Specify how you would like the report to be delivered, as HTML, PDF or CSV.
Send report to - Email address(s) to send the report to.
Statistics to include - Use the checkboxes to select all the data you would like to be included in the report.

Press Create Report.
Create a Dashboard
You have the freedom to add, remove, drag and drop widgets. You can also display the data in other formats to suit your needs.
To create a new Dashboard:
Click the Dashboard button.


In the Dashboard drop-down, select Create new dashboard


Enter a name for your new dashboard.


Select whether or not your dashboard should contain widgets. If you do not select widgets at the point of creation, you will be prompted to add some later.


To add additional widgets, select the Dashboard button.


Hover over a widget to see a preview.


Click on a widget to drop it on your dashboard.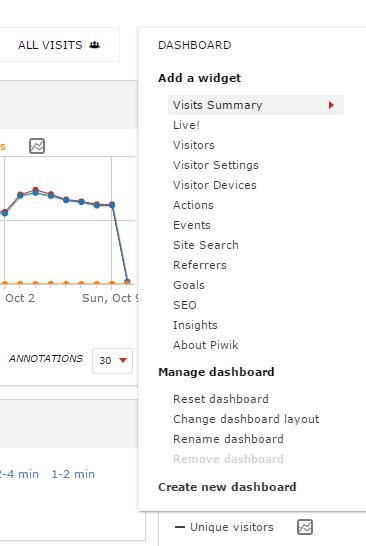 Dashboard Widgets
Every widget has 4 icons in the top right, which will let you refresh, minimise, expand or remove the widget. At the bottom left, there are icons that let you change how the data is displayed and options for saving that data to your computer. If you cannot see these icons, click the arrow at the bottom of the widget.
Matomo Tabs
Visitors
The Visitors area gives you information about who is visiting your website. The Overview provides you with general information about how your school website has evolved over time.
Feeling confused? Hover your mouse over the report name to bring up a help icon. Clicking on this will give you contextual help about what each of the reports are.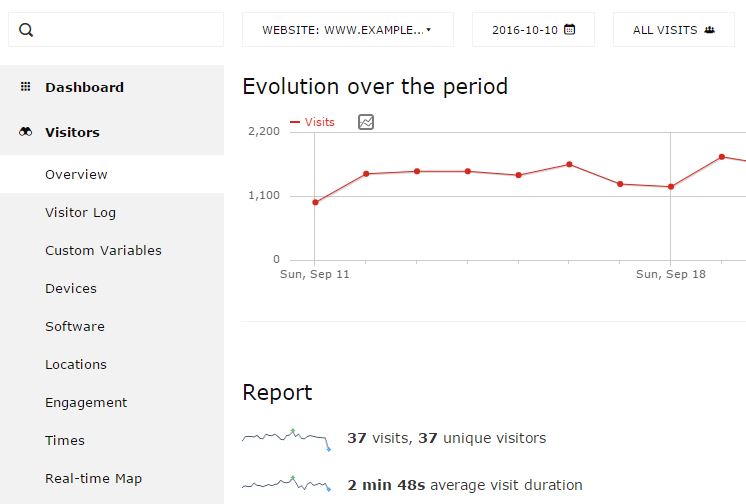 Visitor Log - contains information about where your visitor is from, how they got to your website, where they arrived on your website and what actions they took.


Custom Variables - is used to identify the number of HTTP code requests, such as 404 "page not found" errors.


Devices - find out technical information about your visitors. Here you will discover popular device types, bands and models.


Software - gives you a complete breakdown of a visitor's operating system, browser type and any plugins.


Locations - this will give you more information about a visitor's location along with their provider.


Engagement - tells you how well your website is engaging your users. You can find out how long visitors stay on your site and how many of them return.
Actions
The actions tab tells you how your visitors interact with your website.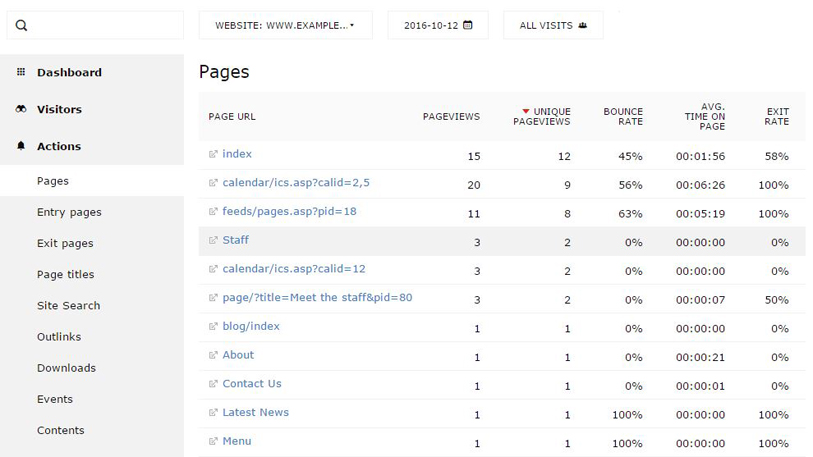 Pages - Contains information about the page URL's that have been visited.


Entry pages - Take a look at entry pages for a specific period. An entry page is the first page that a user views during their visit.


Exit pages - An exit page is the last page that a user views during their visit.


Page Titles - The page title is the HTML <title> tag which most browsers show in their window or tab title.


Site Search - If you have a search box on your website, this report will show what visitors are looking for. It can help generate ideas for new content and improve the overall visitor experience.


Outlinks - An outlink is a link that leads visitors away from your website.


Downloads - Discover what files your visitors have downloaded.
Referrers
This is an overview of the referrers that led visitors to your website.
It is important to note that the referrers tab may also contain information about bots which could be targeting your website for the purposes of marketing or malicious intentions.
Unfortunately, across the internet, website attacks happen all the time. For the most part, they are unsuccessful and go unnoticed. Rest assured, our servers are monitored 24/7, 365 days per year by our data centre advisors. If you have any concerns, please contact our Support Team who are more than happy to help.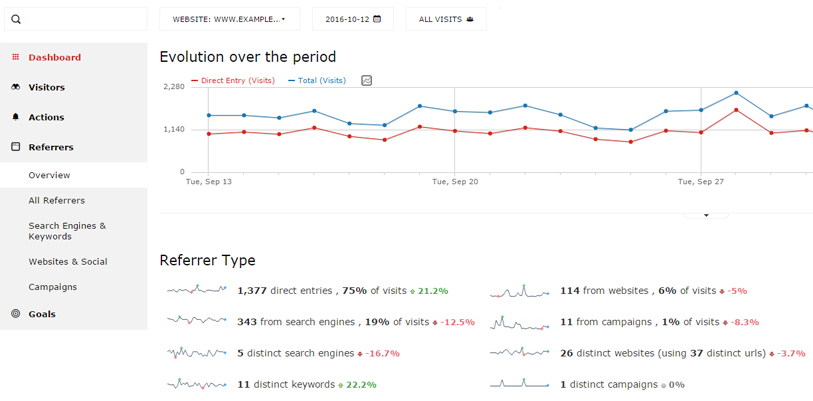 Overview - An overview of the referrers that led visitors to your website.


All Referrers - Contains information about the distribution of the referrer types:

Direct Entry - A visitor has entered the URL in their browser and started looking around your website.
Search Engines - A visitor was referred to your website by a search engine.
Websites - The visitor followed a link from another website that led to your website.
Campaigns - Visitors that arrive on your website as a result of a campaign.

Search Engines & Keywords - Displays a list of keywords users were searching for before being referred to your website.


Websites & Social - A list of websites which referred visitors to your website. Clicking on a row in the table allows you to see which URL's the links to your website were on.
Goals
Goals are not in use. If you have any questions about Goals, please contact our Support Team.