Due to GDPR requirements for the handling of personal data, we strongly recommend that one of the cookie notifications is turned on for the website. This is to ensure that users are explicitly notified about your school's privacy policy and use of cookies, which is a legal requirement.
What are Cookies?
Cookies are small pieces of text sent to your browser by a website you visit. They can be used both to make it easier to visit the site next time and to tailor your experience.  As a website owner, it is your responsibility, under GDPR regulations, to make sure that your visitors are aware if any of their data is being used.  So, if you embed something provided by a third-party, into your web pages, you may need to let them know if that third party is using their data.   
The functionality outlined here will help you set up your cookie notification.  If a user chooses to allow cookies, they will be able to view the third-party content, but if they choose not to allow the cookies the third-party content will not be displayed.

Cookie Settings
To turn on  cookie notifications -:
Select

 

Cookies and Privacy

 

from the

 

Website tab. 

Select Cookie Settings from the

 

drop-down list.


Within the Cookie settings screen select the

 

Cookie Notification

 

Layout

 

from the drop-down list.


From this box, you can also select the position where the icon will appear on the screen, choose a colour theme and set notifications to appear automatically.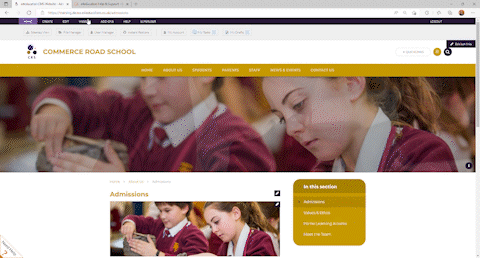 Cookie List
The Cookies List setting is to allow you to add information to the privacy policy regarding what cookies are set on the website. This is down to you to update as Cookies that may be set by embedded content such as a Google map you may have on the contact us page will set cookies on the website. Within the list, there are a set of commonly used lists such as Google Maps and Google translate which can be quickly and easily added to the website.
To access the cookies list -: 
Select

 

Cookies and Privacy

 

from the

 

Website Tab.


Select

 

Cookie List

 

from the

 

drop-down list. 


To add additional cookies to the list click Add Cookie -:

You can select from a list of predefined cookies from the drop-down box, or by selecting No Predefined cookies you can complete the information fields to manually add a new cookie.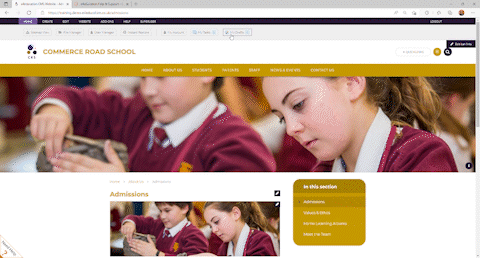 Privacy Policy Page
Upon updating your cookie settings, it's always best to check your Privacy Policy page to make sure everything looks up to date.
Click the Website tab on your admin bar.
 
Click on Cookies and Privacy.
 
Click on the Privacy Policy button; this will take you to a page containing your cookies list.

You are also able to enter your own Privacy Policy by changing the text within the content box and saving your page.