SEO is used to help search engines learn more about your website.  Historically, adding numerous keywords would improve Search Engine Rankings (SEO) and move websites up the search results.  As this functionality became easy to manipulate, many Search Engine providers have now stripped out meta keywords from their ranking algorithm.
Though the ability to directly push websites up search results with keywords has been removed, Meta Descriptions are a great way to promote information about a particular page and encourage visitors to click.  Your Meta Description may not always appear in Google, Bing, Yahoo, etc as the Search Engines frequently pick out snippets of text from the page itself.
  Read Google's "Search Engine Optimisation Starter Guide (SEO)"
Adding SEO Settings
Navigate to the page you would like to add SEO settings


Select

 

SEO from the

 

Edit

 

tab.  You will be presented with the Page Title Tag, Keywords and Meta Description text fields.

Page Title Tag allows you to change the title of the page as it appears in the search results in Search Engines. This is also displayed in the browser tab for the website. Where blank the page title uses the Page Title and the Site Name as default. 
Enter Keywords and Meta Descriptions with as few and concise words as possible.
Click the save button on the Edit Tab and choose the desired save option.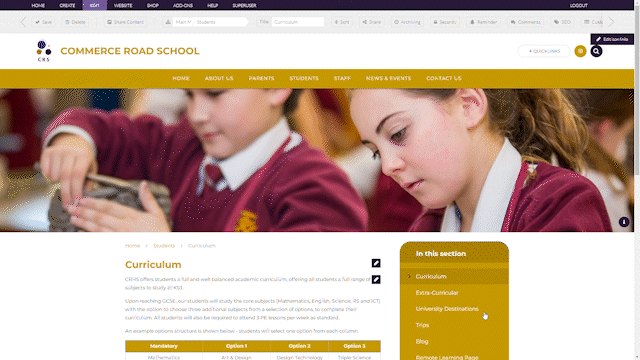 Save Now

If you see this option, you are able to save and publish your item immediately to make it live on the website.
If you have purchased our School News Mobile App, Administrators or Publishers will also be able to tick the option to send a notification to subscribed app users.  
 

Save Draft

This will allow you to save your item without publishing it, and return to continue editing via the Drafts button on the Home Tab
 

Send for Approval

This option enables you to send an item to be reviewed and approved by either an Administrator or Publisher.  Once approved this item will be made live on the site.