Website pages are used to share information with your visitors.  You can add text, images, video and much more using the content editing ribbon.  The page admin ribbon allows you to set additional locations for your page, archive and publish dates, and much more.  
Creating a Page
Navigate to the area of the website where you would to create a page.


Select

 

Page

 

from the

 

Create

 

tab.


A blank page template will display.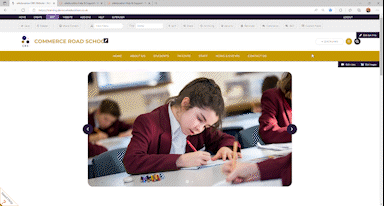 Naming a Page
Edit the title of a page by directly clicking on the title text and typing. Keep the title short, as it will also be used to create the menu item to access your page.  


Alternatively, click on the

 

Edit

 

tab and in the

 

Title

 

field, type the page title.
Editing page content
Click into the content area of your page.


You can type, or copy and paste the text into your content area.
You may wish to include elements from the Editor Ribbon
Page Settings
The Page Admin Ribbon can be accessed by clicking on the Edit Tab. 
If you have clicked into the content area on your page, you will see the Content Editing Ribbon.  To close the content tools, click outside of the content area, or click the cross at the right-hand side of the menu ribbon.  
The Page Admin Ribbon gives you the ability to update a number of options for an individual page or item on your website, for example setting archive options and additional page locations.
Saving
Click the save button on the Edit Tab and choose the desired save option.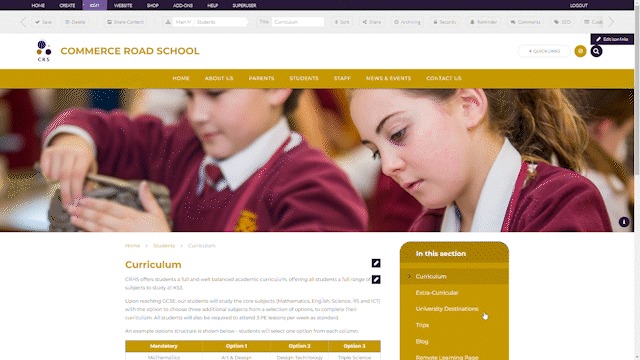 Save Now

If you see this option, you are able to save and publish your item immediately to make it live on the website.
If you have purchased our School News Mobile App, Administrators or Publishers will also be able to tick the option to send a notification to subscribed app users.  
 

Save Draft

This will allow you to save your item without publishing it, and return to continue editing via the Drafts button on the Home Tab
 

Send for Approval

This option enables you to send an item to be reviewed and approved by either an Administrator or Publisher.  Once approved this item will be made live on the site.