Create an album to showcase photographs from an event, share artwork or highlights from a trip.  The images can be quickly uploaded in bulk (up to 99 in an album) and can be viewed as a slideshow by visitors to your site.    
Creating an Album
Locate and open the gallery that you would like to add a photo album onto.


Select Album from the Create tab.

A blank photo album template will appear.  


Give the photo album a title by directly clicking on the New Photo Album text or by clicking on the Edit tab and in the Title field, type the photo album title.


Add a description by placing your cursor in the content area and typing over the default text.
You may wish to include elements from the Editor Ribbon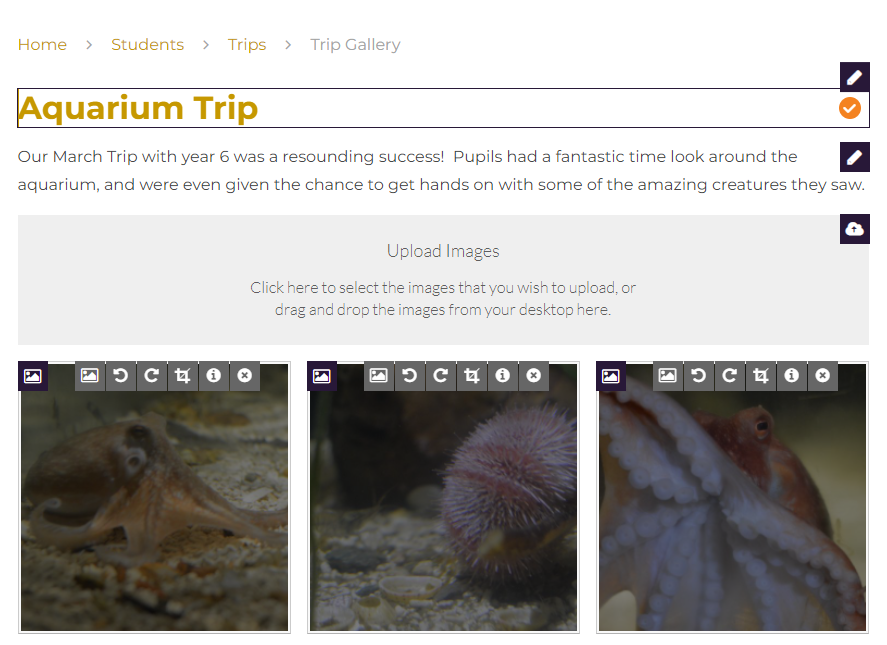 Uploading Photo Album Images
Scroll to the bottom of your newly created Photo Album and click the Upload Images block. A window will appear displaying files on your machine.


In this window, navigate to the folder containing the images you would like to upload and select the appropriate images.  You can highlight more than one file to upload several at one time, a  maximum of 99 images. 


Click on the image and press Open.  
Reorder Photo Album Images
With your mouse, left click on the image that you would like to move.


Drag the image to its new position within the photo album.
Note:  You can only reorder images within the same photo album.  Images cannot be dragged to another photo album.
Set a Thumbnail Image​​​​​​​
Click on the first icon to set the image as a thumbnail that will appear in the gallery for this album.  From the Edit tab, the Thumbnail icon will update to reflect the change.
Rotate an Album Image​​​​​​​
If your image is not displayed in the correct orientation, click on the rotate icons until it is the correct way up.  
Setting a Title & Description for an Image
Click the i icon at the top of the image, you can then type the Title and Description.  
Deleting a Photo Album Image
Hover your mouse cursor over the image you would like to delete.


Click the delete icon  The image will instantly be removed from your website.