Whether you're looking to showcase some great work at your school or display lots of photo albums from school trips and events, you can utilise galleries for all occasions.  A Gallery is a good way to group together Albums, whether it is photos from this academic year, Albums for a Year group or a school club, the choice is yours. 
Navigate to the area of the website where you would like to create a photo gallery. and you will be able to create a photo gallery if you have the permissions to do so. 


Select Gallery from the Create tab.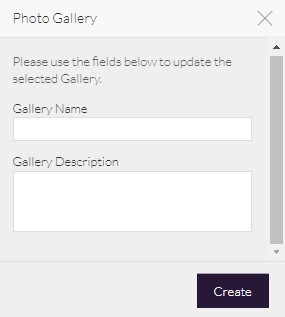 You will be prompted to give your photo gallery a Gallery Name and Gallery Description.
Click Create.


A blank gallery will appear with the following text:  No photo albums have been added to this gallery yet.


There is also a content area where you should enter some wording to explain what visitors can find within your Gallery.
You may wish to include elements from the Editor Ribbon
Now that you have your blank gallery, it's time to populate it with lots of photo albums.