With Calendars, you can keep everyone informed about upcoming events at your school. You can combine multiple calendars in a single view, to display events from specific categories.
Navigate to the area of the website where you would like to create a calendar category.


Select Calendar from the Create tab. The Calendar dialogue window will appear.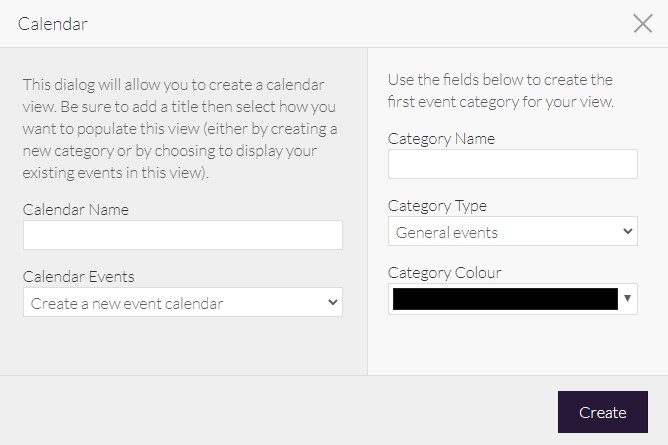 Enter a view name for your calendar in the Calendar Name field.


Ensure the Calendar Events drop-down is set to Create a new event calendar.


Enter a category name for your calendar in the Category Name field.


Select the Category Type drop-down:

General Events are standard calendar events.
Background Events appear as block colours on your calendar. This might be useful colour coding week numbers.



Pick a Category Colour from the selector; or if you know the hex colour code, type it in the field provided e.g. #9B59B6


Click Create to save your calendar category and view.
If enabled by Juniper Education, your calendar can integrate with Office 365, Microsoft Exchange or Google. Events will automatically synchronise on your website at set intervals, preventing duplication of work on internal systems and your website! Once enabled an Admin User can set it up, click here.
Interested in Calendar Synchronisation? Contact our Support Team for more info! support.e4e@junipereducation.org